23910 Village Drive. Richland, Missouri 65556

Phone:
(417) 453-6601

&nbsp
GSD@Waldenhaus.com
"Excellence in German Shepherd Temperament is our Specialty and our Breeding Standard for Over 30 Years"

---
About Oskar Schindler vom Waldenhaus
OFA GS-94464G24M-PI Good Hips - OFA GS-EL33646M24-PI Normal Elbows- OFA DM Parentage certified! AKC# DN38695802

Introducing our very own amazing stud!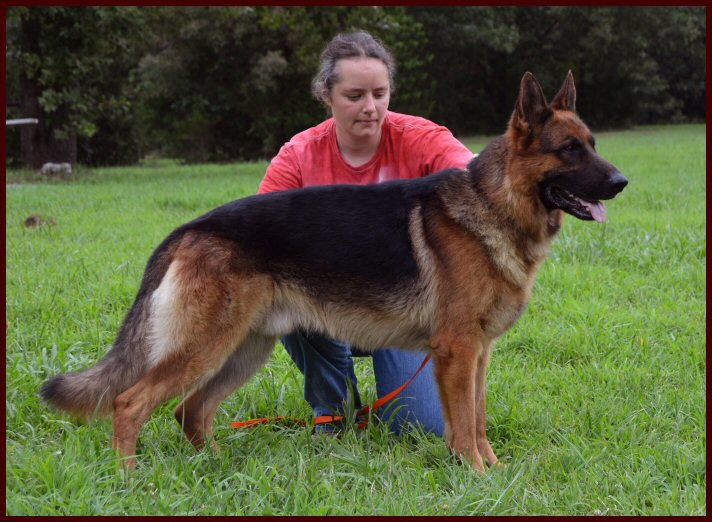 Oskar Schindler vom Waldenhaus! Pictured here at 2 and a half years old, summer 2016!

Oskar is everything we could ask for in a German Shepherd! He is loyal, highly bonded to his family, very out going and social with everyone he meets, yet also protective of his home and family when need be. He has beautiful deep rich black and red coloring and has sound conformation, beautiful to watch on the move. He is a large male with a wide head and very good bone.

Oskar is a son of our beautiful Marley vom Waldenhaus and the amazing Dierks vom Haus Winheim. Oskar is a product of over 3 decades of Vom Waldenhaus breeding, good health and temperament is solid in his pedigree and we are very excited to watch his progeny mature!

Oskar is parentage certified DM normal, his puppies by Karlee will be parentage cleared normal as well for this genetic disorder.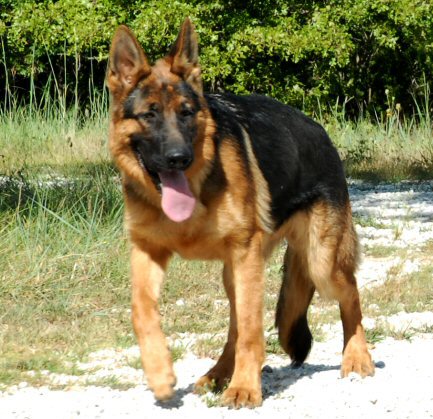 Oskar as a stunning 7 month old pup!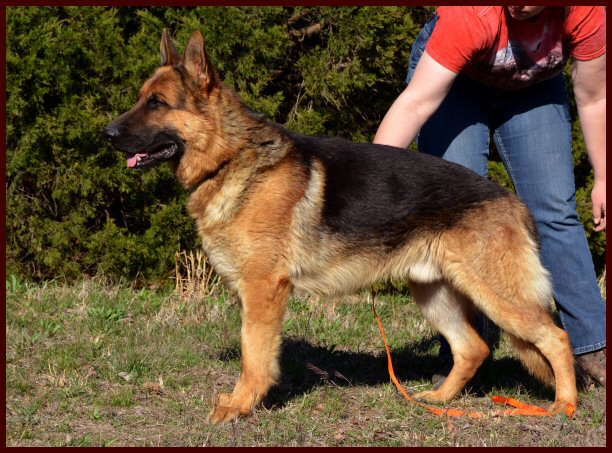 Oskar at age 2, spring 2016 - full winter coat
Click here for Oskar's pedigree.
---
About Karlee vom Waldenhaus
OFA GOOD certified hips GS-95858G24F-VPI OFA certified Elbows, Normal GS-EL34869F24-VPI Parentage certified DM Normal AKC# DN41256304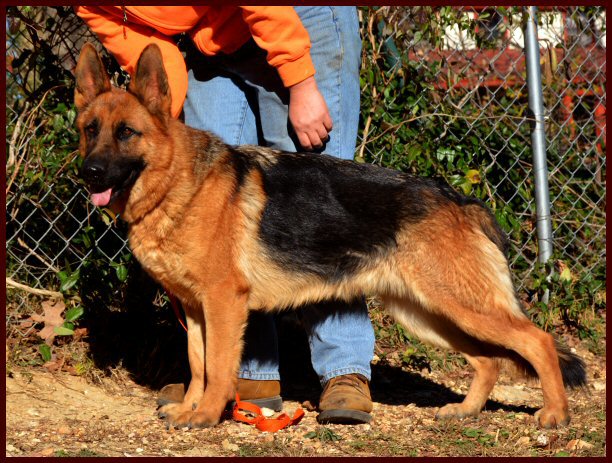 Karlee, winter 2016 at 2 years old.


Click here for Karlee's pedigree



From our long line of proven Waldenhaus females, we are proud to introduce our Karlee! Just like the 8 generations of exceptional Waldenhaus dogs and breedings behind her, Karlee is typical of her family heritage, a beautiful, sound minded black and red female, with incredible intelligence, willness to please and that high bonding and personality only found in well bred German Shepherds.

Karlee is a daughter of our beautiful Kaylie vom Waldenhaus and the amazing Ringo von El Tous. Karlee has been a joy to raise up in our home, she is exceptionally smart and easy to work with, she just seems to know exactly what you want from her and she is very calm and good natured with all of our other animals. We are very excited to see her pups by Oskar!

Karlee's litter by Oskar will be parentage cleared for DM Degenerative Myelopathy, all puppies will be "normal" for this genetic disorder.


---
How do I get a puppy from this breeding?
Deposits of $500 are now being accepted for this breeding. The puppies are covered by our comprehensive guarantee and will sell at 10 weeks of age for $3,500 each, which includes, free shipping (Air fare, and associated taxes, comprehensive flight insurance, a new airline approved airline crate, Licensed Vet. FAA required health certificate, video of puppies to select yours from, all airline scheduling, delivery to the airport for shipping, etc.) directly to your local Metropolitan Airport within North America.
The first step you need to take to reserve your puppy from this breeding is to, e-mail us at: GSD@Waldenhaus.com with any questions you have, and to find out how many deposits we have on this litter. Then you will need to place a deposit to hold your puppy. You can place you deposit the following ways:
Click here to send us your credit card information via Secured Encrypted E-mail.
Or call us at (417) 453-6601 with your credit card information.
A credit card deposit is the fastest way to reserve your puppy, however you are welcome to send a check to:
Vom Waldenhaus German Shepherds
23910 Village Dr. Richland, Missouri 65556


Quick Access Menu


You can reserve your German Shepherd Puppy today with a deposit on your credit card


Feel free to E-mail us at
GSD@Waldenhaus.com
with any questions, suggestions or tell us what you think of our web site.
Thanks for visting our online German Shepher Kennel and remember to your favorites,
Susan, Andrea, and Lucas Forrest
---